I'm back from holiday!! Yes Thailand, Cambodia and Singapore are far behind me and it's back to prop making and modding. This week - in the holiday wind down and back to work vibe - I've fit in some episodes of new Disney animated series "TRON: Uprising". Given my - shall we say - advancing years I am indeed old enough to like and appreciate the original "TRON" movie, though the last iteration left me bored (and I am an Olivia Wilde fangirl so go figure). The "TRON: Uprising" animated series is actually really good and has a pretty awesome cast for scifi nerds like myself (Tricia Helfer, Lance Henriksen, Lance Reddick to name but a few), so I opted for my first post-holiday mod to be a shout out to TRON, in the form of the TRON Nerf Sharp Shot from the Nerf Dart Tag series.
[caption id="attachment_2196" align="aligncenter" width="500" caption="The Bad and the Good of Tron"]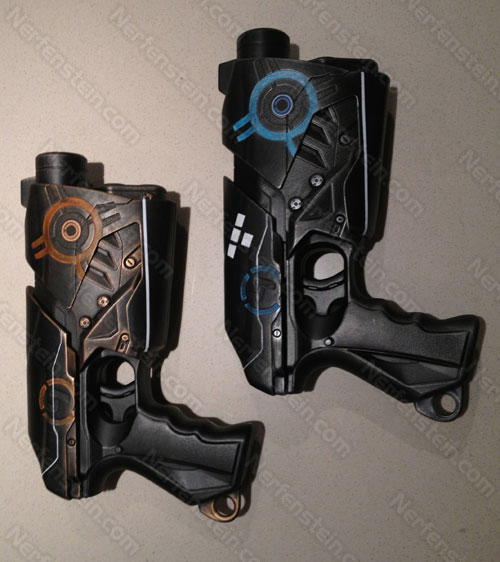 [/caption]
The Nerf Dart Tag Sharp Shot is a sweet little gun, with removable shell shielding which means you can totally detail the main body of the gun no problem and there is a lot of cool detail on it (some of which you won't see when reassembled, but you'll know it's there). The shell also has some sweet detail and it just so happens to be straight lines and circles, which screams TRON.. handy! I went with a dual paint scheme on this mod, one with blue highlights (the good) and one with orange (the bad guys). To cap it off I also did one with brass / gold metallic highlights (to tie-in with the orange) and the other with lead / silver highlights (to tie-in with the blue).
[caption id="attachment_2197" align="aligncenter" width="500" caption="Nert Dart Tag Sharp Shot - Perfect for a TRON homage"]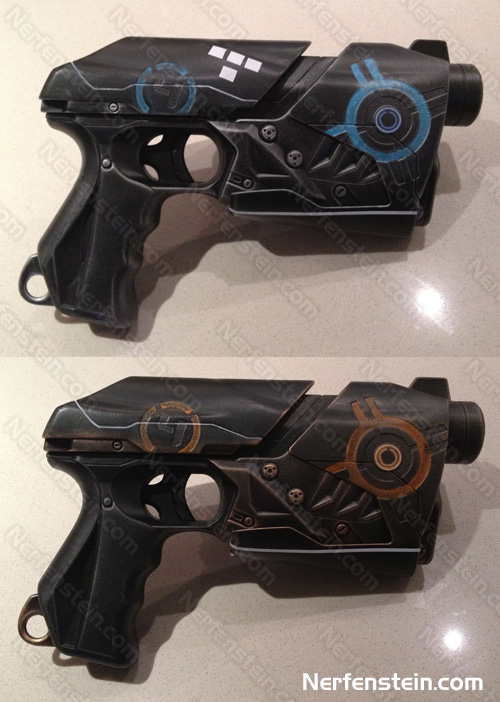 [/caption]
Hope you all liked it! Till next time, have a good one! This post written for
GirlyGamer.com.au
the blog of prop maker wannabe and blaster modder Nerfenstein.
Facebook with her
… err.. me!